Skip to Content
Skip to Navigation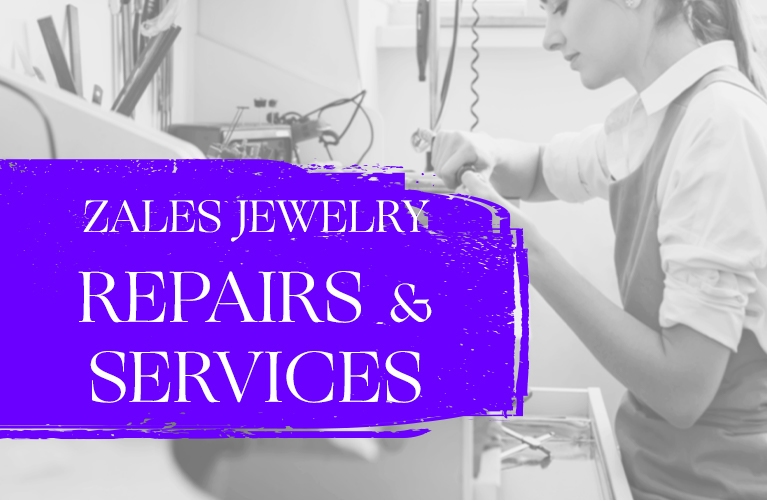 Bringing the jewelry you love
back to its original brilliance.
We know that your jewelry is special to you. You love your fine jewelry and wear it often, but like most everything else, it will start to show signs of wear or breakage. Over time, chains break, clasps become loose, and prongs holding diamonds or gemstones may fail. Keeping your jewelry looking its best is why Zales offers repairs and services, including regular jewelry maintenance, inspection and cleaning. Stop by for an assessment of your jewelry today.

We will clean it, inspect it and, if it needs repair, offer you a competitive estimate.
 
Cleaning and Inspection Service
Performing regular cleaning and inspection of your jewelry is a great way to catch any problems before they happen. Bringing your jewelry in for inspection and cleaning every six months allows us to catch any loose stones, prong damage or other injury, and repair it before further problems arise. Remember - our inspections and cleaning services are free for all your jewelry - whether you purchased it at Zales or not!
Take a Detailed Look
When you visit your local store, a jewelry consultant will clean and inspect your jewelry. Using a digital Gemscope or tablet, we will take a photo of your diamond or gemstone and make notes to identify its unique characteristics. We will email these photos to you for reference.
Receive a Repair Estimate
The Zales jewelry repair team will determine what repairs may be needed. We will also verify if your jewelry is covered by a warranty or service plan. The final cost of the repairs will be established before sending the jewelry to our Service and Repair Center.
Send to Service Center
We will send your jewelry to our Service and Repair Center where Master Craftsmen will repair and restore your piece with meticulous care. After a final polish and inspection, your jewelry will be shipped back to your local store. You will be notified by email or phone when it is ready to be picked up.
Compare Before and After
We will contact you when your jewelry is back in store. At that time, you will review before and after photos of your item to confirm the appropriate repairs were completed. This process ensures your satisfaction with the quality of the service.
The Zales Repair Guarantee
We have a six month guarantee on all repairs. If our work does not meet your expectations, bring it back and we will repair it for free.
Repairs and Services We Perform
Keeping your fine jewelry looking great starts with regular maintenance, inspection and cleaning. However, should your jewelry ever need repair or refurbishing, you can count on the jewelry craftsmen at Zales to treat your piece with care. Whether you need a simple clasp replacement or a complete mounting repair, we have got you covered. Some of the repairs and services we offer include: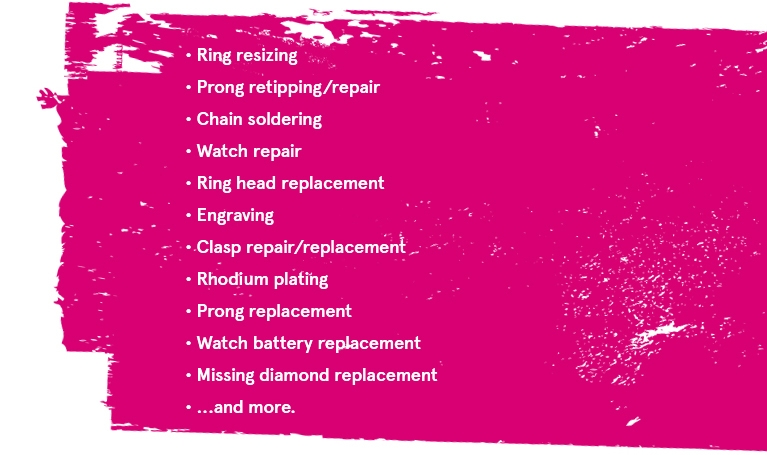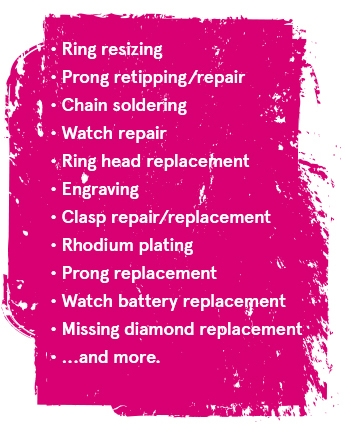 Regular service will extend the life of your jewelry and prevent the loss of diamonds or colored gemstones. Keep your treasured fine jewelry looking as great as it did the first day with the help of our jewelry repair experts.
Extend the Life of Your Jewelry With Regular Care
Wearing your jewelry every day practically guarantees you will experience wear and tear. You can extend the life of your fine jewelry by following a few simple steps:
Remove jewelry before showering or before using grooming products. Many cosmetics, lotions, hairsprays and perfumes contain chemicals that can damage jewelry.
Remove jewelry before doing any household cleaning, dishes or entering a pool or spa. Exposure to certain commonly used chemicals can cause color changes and structural damage to your jewelry.
Remove jewelry before any physical activity. Try to avoid bumping, hitting or scratching your jewelry on furniture, walls and other hard surfaces.
Avoid pulling, tugging or chewing on chains and bracelets. Any kind of pulling or pressure can cause stress, which can stretch or weaken the metal or break clasps.
Keep your jewelry looking its shining best. Bring your jewelry in to your local Zales store for regular cleaning and inspection.