Skip to Content
Skip to Navigation
How To Find Your Ring Size
Find Your Fit with Our Ring Sizing Guide
Whether it's your ring or a gift for someone you love, you want to get ring size right the first time. Follow our guide for tips and instructions on how to find your ring size when you buy a new ring.
Ready to make your measurements? Download the ring sizer file by clicking the print icon. Then choose from our three accurate measuring techniques.
For accuracy, do not print this page! Please download the
Ring Sizer
file using the printer icon and ensure it is printed at 100%.
---
Tips for the Perfect Fit
There are a lot of factors that can impact ring measurements. Finger widths naturally fluctuate, so to get the most accurate ring size it is a good idea to take multiple measurements throughout the day. You should account for factors than can affect sizing like:
Temperature
Keeping temperature in mind can help you get a better fit. Anyone who regularly wears rings has probably noticed that fingers naturally expand slightly in the heat and shrink smaller in the cold. For a snug fit in any weather, it is a good idea to average your ring size based your finger width in cold, normal, and warmer temperatures.

Happiness
Folklore says that wearing pearls on your wedding day will bring a happy marriage. Some believe a pearl is a representation of a tear and by wearing pearls, you ensure a lifetime of joy with your future spouse. This superstition is practiced by many brides who hope not to shed any tears in matrimony.
Finger Shape
Each finger is shaped differently, so make sure you closely measure the finger that is wearing the ring. Also, do not forget to measure your knuckle too so the ring can pass over and fit correctly at the base of your finger.

Your Diet
A factor that you may not even realize can affect ring size comes can be what you eat. For some people, too much salty food can actually cause fingers to swell.
---
Two Easy Ways to Measure Your Ring Size
Now that you know what to look for, you are ready to measure. Follow our two methods below for measuring your own finger or finding your ring size based on a ring you already own.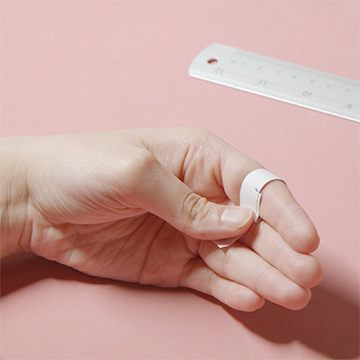 Measure Your Own Finger
When you are starting fresh, get your ring size right by following these steps.
Get a small piece of string, strip of paper, or print out our paper ring sizer tool.
Wrap the tool snugly around your finger, it should be comfortable and not squeezing too tightly.
Mark your tool. Then lay it out taut to measure with a ruler or compare with our sizing chart.
Do this process again to double check your measurements are accurate.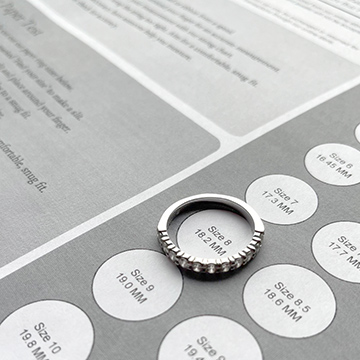 Measure a Ring You Own
Have a ring that already fits perfectly (or are referencing a ring for a gift) but don't know the size? This is the method for you.
Print out our chart for the full range of rings size to compare to. Use the print icon at the top of the page.
Place the ring on top of each circle until you find the perfect match. You can tell you have the right measurement when your ring fits neatly inside the circle.
Double check your measurements for accuracy.
| | | |
| --- | --- | --- |
| Ring Size (US) | Diameter (Millimeters) | Diameter (Centimeters) |
| 3 | 14.0 MM | 1.4 CM |
| 3.5 | 14.4 MM | 1.44 CM |
| 4 | 14.8 MM | 1.48 CM |
| 4.5 | 15.2 MM | 1.52 CM |
| 5 | 15.6 MM | 1.56 CM |
| 5.5 | 16.0 MM | 1.6 CM |
| 6 | 16.45 MM | 1.64 CM |
| 6.5 | 16.9 MM | 1.69 CM |
| 7 | 17.3 MM | 1.73 CM |
| 7.5 | 17.7 MM | 1.77 CM |
| 8 | 18.2 MM | 1.82 CM |
| 8.5 | 18.6 MM | 1.86 CM |
| 9 | 19.0 MM | 1.9 CM |
| 9.5 | 19.4 MM | 1.94 CM |
| 10 | 19.8 MM | 1.98 CM |
| 10.5 | 20.2 MM | 2.02 CM |
| 11 | 20.6 MM | 2.06 CM |
| 11.5 | 21.0 MM | 2.1 CM |
| 12 | 21.4 MM | 2.14 CM |
| 12.5 | 21.8 MM | 2.18 CM |
| 13 | 22.2 MM | 2.22 CM |
| 13.5 | 22.6 MM | 2.26 CM |
Use Our Ring Size Chart to Find Your Size
Compare your measurements and find your ring size with our ring size chart. We use standard US sizing which ranges from 3 to 13.5.
---
Ring Size FAQs
Can I exchange the ring if it's the wrong size?
Not happy with the fit of your ring? We allow exchanges within 60 days of your original purchase for a new ring in the correct size. Just make sure your ring is in good condition and has all the original certificates and accessories. Then you can make your exchange at a Zales store near you. You can review all the details about our exchange policy on our
Returns and Exchanges
page.
Can I resize a ring that doesn't fit anymore?
Yes! We offer ring resizing as one of our many
Jewelry Repair services
. You can
book an appointment
with our expert jewelers at a Zales store near you for an assessment and repair plan to resize your ring so it fits appropriately on your finger.
What should I do if my ring size changes with cold or hot weather?
Your finger size will naturally fluctuate in the hot and cold, but you don't want your ring to slide off or get stuck on your finger. Here are our suggested solutions for temperature-related fit problems:
In the cold: If your ring spins but stays on your finger, there are slight adjustments that can be made. Ask a Zales jeweler about ring beads or fold-over devices that can fix slight fit issues. However, if it is fully sliding off your finger you may need to resize the ring.
In the heat: Swelling around your ring can happen in hot weather and can be a minor annoyance if your ring fits perfectly otherwise. But, if swelling is causing your ring to be too uncomfortable to wear, it may be worth getting the help of an expert jeweler to size up your ring slightly.
---
Related Topics

Learn more about gemstones, settings, and styles at Zales.