Skip to Content
Skip to Navigation
Gemstone Engagement Rings

Your Perfect Engagement with Your Perfect Gemstone
It's the personal touches that make your engagement special — they make that day your day. You deserve an engagement ring that truly embodies your love story.

Is your love a diamond? Or is it a timeless sapphire, a radiant topaz, an elegant emerald, a magical opal, or a serene amethyst? Gemstone engagement rings make your special day unique to you. Find the best gemstone engagement ring for your wedding and explore colors, cuts, and settings for "the one" that's just your style.
---
Sapphire Engagement Rings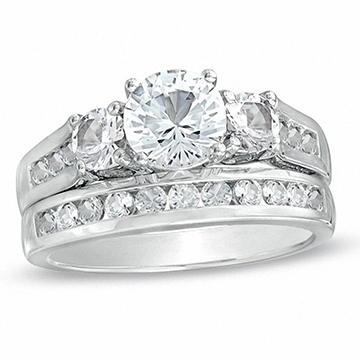 Why Choose Sapphire?
Sapphires are one of the most popular choices for unique gemstone engagement rings because of their durability and gorgeous colors. We all know the classic blue sapphire, but brilliant white sapphires and romantic pink sapphires are equally stunning for engagement ring styles. This gemstone is even a favorite for engagement rings among royals, featured famously in the late Princess Diana's ring now worn by Kate Middelton, Princess of Wales. Sapphire is an unfading beauty with hardness that is second only to the diamond and is lovely choice for brides looking to bring in fairytale fantasy and elegance to their wedding.
Sapphire Gemstone Meaning
Sapphire is a classic beauty and is the gemstone of nobility. Sapphires are thought to symbolize faithfulness, sincerity, and nobility.


Popular Sapphire Engagement Ring Styles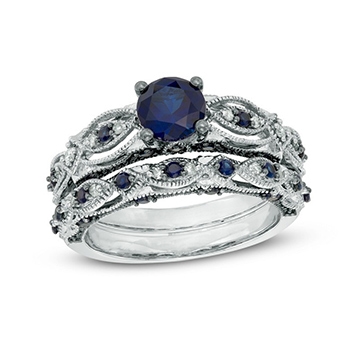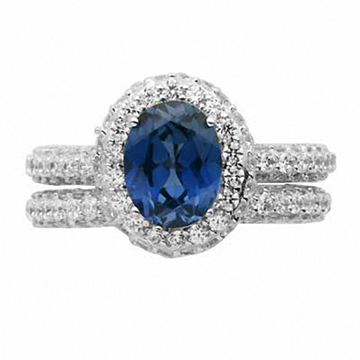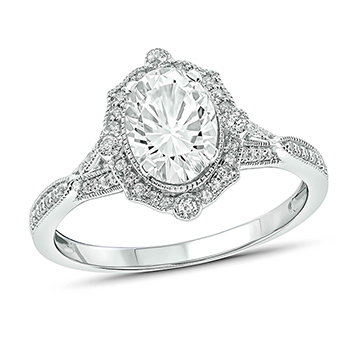 Sapphires are known for their deep blue color, but pink and even white sapphires are a great option. If you're after a traditional engagement ring style, designs like the classic halo engagement ring or solitaire engagement ring let your sapphire be the star. When it comes to shape, pear-cut rings and oval-cut rings complement this classic gemstone.


---
Topaz Engagement Rings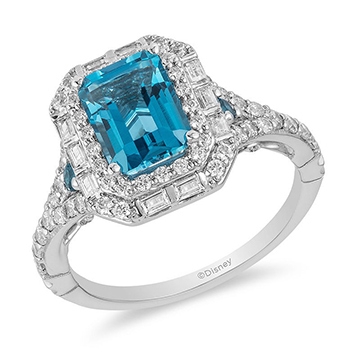 Why Choose Topaz?
Looking for something blue for your wedding? Topaz, in particular blue topaz, has enjoyed growing popularity. Its light shades — like sky blue, Swiss blue and deeper London blue — complement a variety of wedding styles, and the topaz itself is a quite affordable and durable gemstone that can last a lifetime.
Topaz Gemstone Meaning
Topaz is a gemstone of understanding that shines with striking clarity. Topaz is also thought to symbolize self-expression and wisdom.


Popular Topaz Engagement Ring Styles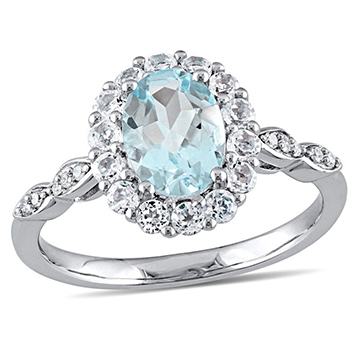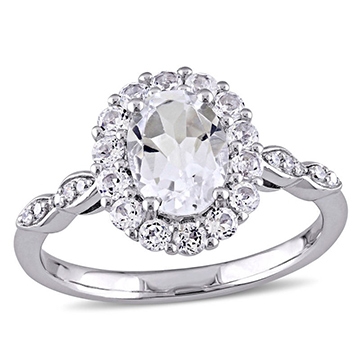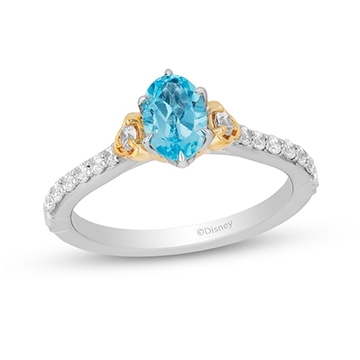 Topaz's versatility lends itself to traditional and romantic styles for your perfect "I do." Enjoy the full force of topaz's brilliant blue color with three-stone engagement ring styles or keep it simple with solitaire engagement rings with an oval, round, and cushion cuts that suit this gemstone.


---
Emerald Engagement Rings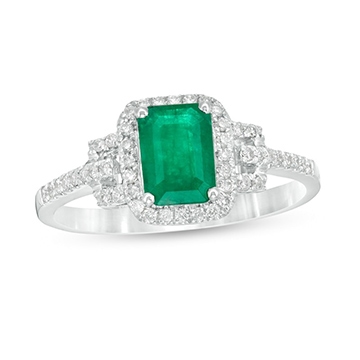 Why Choose Emerald?
Emeralds are actually rarer than diamonds, making them a true natural treasure. Popular among Hollywood icons and a favorite gemstone for opulent Art Deco jewelry, emerald will give your engagement ring serious star power. So, if you want an alternative to a diamond that feels just as grand, emerald may be the gemstone for you.
Emerald Gemstone Meaning
Emerald is a symbol of unity that enraptures with its iconic green hue. This vibrant green gemstone is also thought to symbolize renewal and growth.


Popular Emerald Engagement Ring Styles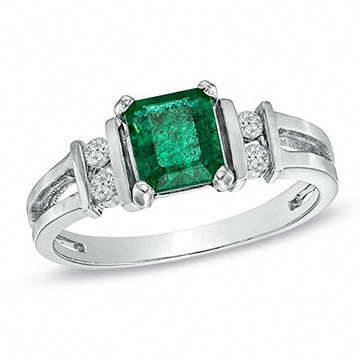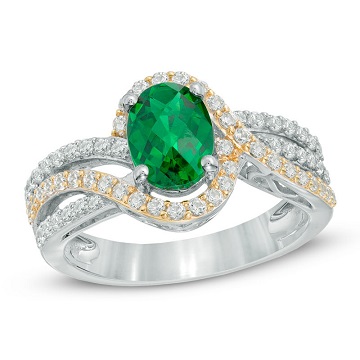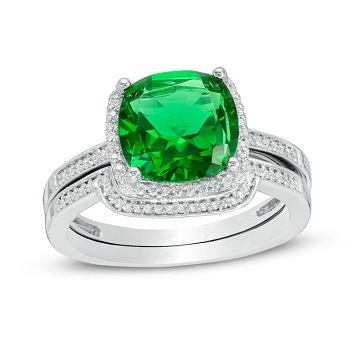 Emerald is suited to vintage style engagement rings, being one of earth's oldest gemstones, and their green color pops particularly well against white gold settings. This beautiful gemstone is suited to
emerald-cut rings
,
round-cut rings
and
cushion-cut rings
.
---
Opal Engagement Rings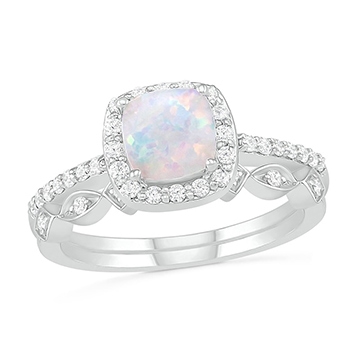 Why Choose Opal?
Opal engagement rings suit those with a creative vision. Unleash your true colors with a gemstone engagement ring that captivates with its natural rainbow iridescence. Most often found in the traditional cabochon cut, opals for rings use a high arch to accentuate opal's natural range of color, plus the continuous dome is easier to treat for scratches and damage. Though this gemstone can be more fragile, prismatic opal is great for the bride who walks on the whimsical and colorful side of life.
Opal Gemstone Meaning
This curious and colorful gemstone is associated with creativity. Opal gemstones are also thought to symbolize originality and true love.


Popular Opal Engagement Ring Styles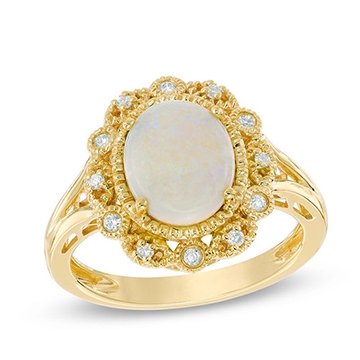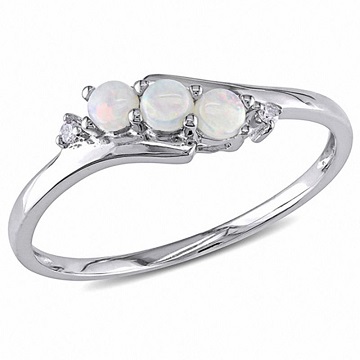 Embrace opal's unique beauty by setting it in colorful metals like rose gold. It's also popular to enhance opal's shine in a frame-style engagement ring decked out with diamonds. Just remember, opal's natural iridescence appears best in
round-shape rings
and
oval-shape rings
.
---
Amethyst Engagement Rings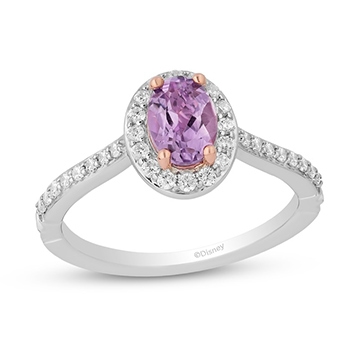 Why Choose Amethyst?
Amethyst has a lot of connections to love — not only is it February's birthstone, but it was also rumored to be worn by St. Valentine. This eye-catching gemstone's color ranges from light lilacs and violets that read delicate and floral, to deep and intense purples. Amethyst is also a durable gemstone and makes an extra romantic center stone for engagement rings.
Amethyst Gemstone Meaning
Amethyst is the romantic gemstone of passion. Purple amethyst is also thought to symbolize intelligence, creativity, and love.


Popular Amethyst Engagement Ring Styles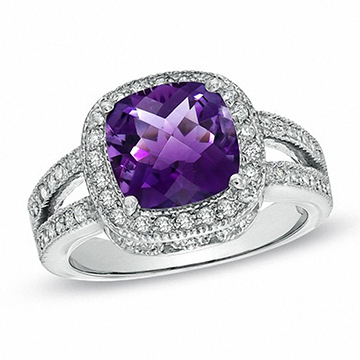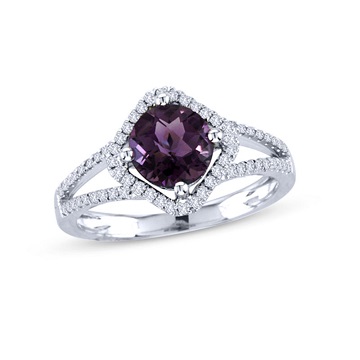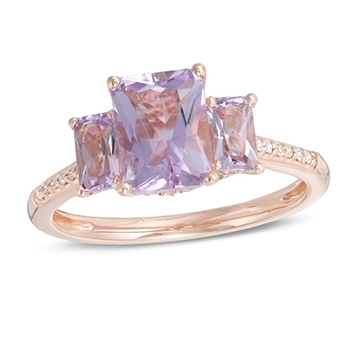 Amethyst gemstones are suited to
emerald-cut rings
and
cushion-cut rings
because the bold lines of these gem shapes contrast amethyst's rich color. It also pairs beautifully with more unique metals, like in rose gold engagement ring styles. The serene amethyst can hold its own in simple solitaire styles to more ornate frame or halo style engagement rings on your wedding day.
---
| | Sapphire | Topaz | Opal | Amethyst | Emerald |
| --- | --- | --- | --- | --- | --- |
| | | | | | |
| Color | Whites, pale to deep blues, soft to bright pink | Sky blue, London blue, and Swiss blue | White, black, fire, boulder with multicolor veins | Pale rose-violet, deep purple | Vibrant green to blueish-green |
| Wedding Anniversary | 5th and 45th anniversary | 4th anniversary | 14th anniversary | 6th anniversary | 20th and 35th anniversary |
| Mohs Hardness | 9 | 8 | 5 to 6.5 | 7 | 7.5 to 8 |
| Wearability | Excellent | Very Good | Poor | Very Good | Good |
| Special Care | Clean with soapy water and store in soft pouch; safe for most cleaning methods | Clean with soapy water and store in soft pouch; avoid steam and ultrasonic cleaners | Clean with soapy water and store in soft pouch; avoid high heat, ammonia and bleach, steam, and ultrasonic cleaners | Clean with soapy water and store in soft pouch; avoid steam cleaners | Clean with soapy water and store in soft pouch; avoid high heat, ammonia and bleach, steam, and ultrasonic cleaners |
| Gemstone Options | Natural and lab-created | Natural and lab-created | Natural and lab-created | Natural and lab-created | Natural and lab-created |
Shop Gemstone Engagement Rings
Your ring is part of your own love story. Express your personal style with colored gemstone engagement rings that dazzle just as much as you. Explore gemstone engagement rings styles including sapphire, topaz, emerald, opal, and amethyst. It's your special day, choose a ring that's uniquely yours at Zales.


Speak to a Jewelry Expert
In-person, chat session, or phone call — we're here to help you find your perfect engagement ring.


---
Related Topics
Learn more about gemstones, settings, and styles at Zales.