Nothing can compare to the style and sophistication of that timeless timekeeper — the wrist watch. At one time, watches were functional essential items. Now, they are a practical expression of our personal style.
Increasingly appreciated for their feats of engineering and artistry, there are many different types and prices to choose from — but don't feel overwhelmed. Here are the basics so you can feel prepared to find your favorite to own or to give.
---
Watch Display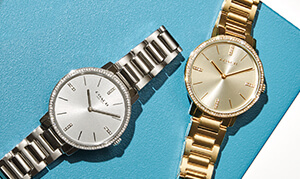 There's a saying among watchmakers that, in selling a watch, one need only sell the dial.
A watch's display is an important component to the look and feel of every watch, especially when worn as jewelry. It can range from a sleek and streamlined analog display, or it can digitally display every complex function to get you through your day. Here are a few types to look for as you shop:
​
Analog
Analog is a traditional look that displays the time using hour and minute hands. A sweep second hand may be used to track the seconds.
---
Digital
Digital displays typically show the time in a numerical form. They're very clear and easy to understand, and are used in many children's watches.
---
LCD
Liquid-crystal Display (LCD) watches feature a digital display where the numbers are formed in a liquid layer enclosed between a pair of clear crystals.
---
Ana-Dig
Analog/Digital watches combine both an analog (hour and minute hands) and digital (numeric) display.
---
Watch Finish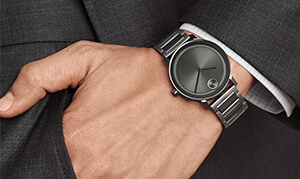 The finish of a watch is perhaps its most defining feature. Whether you choose gold-tone, stainless steel, or black on black, it's the element of your watch that makes the first impression. Your watch's style is greatly impacted by its finish. It can blend in or stand out, coordinate with your look or contrast with your other jewelry.
The idea of finish is even more complex than what can be seen with the eye, however. The watch's internal finish also impacts the timepiece's dependability and sturdiness. When choosing the finish of your watch, consider where you'll wear it and what you'll need it to endure.
​
---
Watch Movement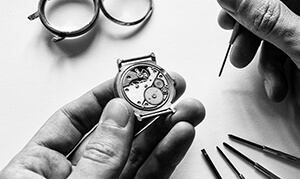 The movement of a watch plays a key role in its functionality, and also its appearance. Also known as "calibre," it's the expertly engineered internal working of the watch that powers the way it operates.
Watch movement can be either mechanical or automatic, both accurate and desirable. While the movement is often hidden from view in most watches, some feature a skeleton movement that reveals the inner workings of the watch, which allows you to see the amazing way it operates. It's jewelry, engineering, and art — all at the same time.
​
---
Common Watch Features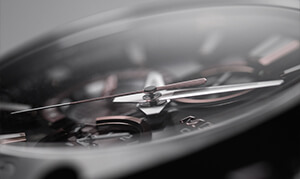 Of course every watch can tell you the hour and minute. But more and more, watches can do so much more. Constantly advancing technologies and smart connectivity capability mean watches can help you get through your day and navigate your world in ever complex ways — all from the wrist.
Want to see today's date, the day of the week, or what the moon is up to? Want to check your messages or your exact GPS coordinates? You'll want a watch with complications — functions beyond basic timekeeping. These can include:
Audible Alarm: This complication used to be available only on more expensive watches, but is common today.
Calculator: A self‐contained mathematical calculator, common on digital watches.
Chronograph: The ability to function as a stopwatch.
Connectivity: The ability to connect to the Internet, allowing the wearer to check phone, email, and text messages.
Digital Camera: The ability to take and store photographs.
Global Positioning System (GPS): A locational system using satellite technology.
Heart Rate Monitor: A receiver that monitors heart rate during athletic workouts.
Moon Phase: Displays the lunar phase.
Perpetual Calendar: A continual calendar that needs no adjustment.
Tourbillon: A device used to counter the effect of gravity to improve accuracy.
Watch Band: Perhaps the most visible component of a watch, which can turn a timepiece into an interesting form of jewelry.
Water Resistance: A watch's ability to withstand water, a feature that can degrade over time, but diving watches are subjected to much more strenuous testing and must meet established guidelines.
Waterproof: Technically, no watch is truly waterproof, but some are designed to perform at deeper depths under greater pressure.
---
Watch Care
Watches are considered jewelry and should be treated with the same level of care. Here are a few basic watch care tips:
Clean your watch regularly with a soft cloth to remove dirt and oils. Water and mild soap can be used to clean metal bracelets.
Avoid exposing your watch to extreme hot or cold temperatures.
Even water‐resistant timepieces should not be worn in a hot tub or shower.
Chlorine, perfumes, and other chemicals may damage rubber, leather, exotic watch bands, and other watch components.
Always rinse a water‐resistant watch in fresh water after swimming or snorkeling to remove salt and sand.
Keep watch cases away from magnets to prevent damage to movement of quartz watches.