You've both waited nine long months for this event and she delivered – literally! Celebrate the birth of your brand-new bundle of joy with a push present. From traditional push gifts to modern new options, and ranging from affordable to extravagant, we've got push gifting ideas for every new mom and family.
---
What is a Push Present?
A push present, or a push gift, is a present given by a woman's husband, partner or family after giving birth to a child. A push gift is a newer tradition in the United States, however the origin of the push present has been prevalent in India and the United Kingdom for hundreds of years, where new mothers were given small gifts to make them feel special or thank them for a 'job well done.'
---
How Much Should a Push Gift Cost?
There are no rules – and no limitations – to what a push present should cost. Everyone's situation is different. Every new Mom has different taste.
Remember that giving your partner a push present isn't a necessity, but after all that hard work, she deserves your admiration and appreciation. Fine jewelry is a great choice for a push present because it is special and meaningful. Not to mention fine jewelry will be enjoyed for a lifetime and eventually even passed down to another. With that in mind, we've rounded up our top five push present ideas – from easily affordable to a bit more extravagant - that are sure to delight the new mom.
​
---
#1 - Birthstone Jewelry to Celebrate Mom and Baby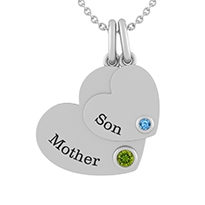 Birthstone jewelry as a push present is also a great idea and can be worn and treasured by Mom until they are passed down. A birthstone is a gemstone that tells part of your story in a beautiful way. Consider a slender band each set with Mom's and baby's birthstones can be stacked and added to with each child. A pair of birthstone stud earrings or a birthstone pendant can be worn and loved by Mom. Birthstone bracelets for each child can be worn layered loved. Birthstone jewelry as a push present will certainly show off Mom's colorful side!
​
---
#2 - Personalized Jewelry Push Gifts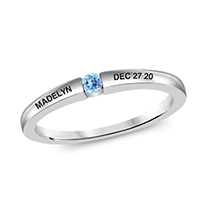 Personalized jewelry gifts celebrating the birth of every baby are a thoughtful push gift. New Mom gifts include many unique necklaces and bracelets that will allow Mom to add more baby charms to. Another idea that is easily affordable is name necklaces or rings. Create one with Mom's name and another with baby's name and she can wear them stacked or layered for a trendy look.
​
---
#3 - A Custom Family Design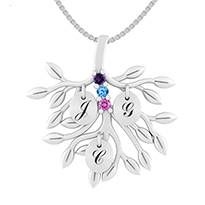 If Mom has had her last child, a mother and family design is a thoughtful push gift. Available in rings, necklaces and bracelets, these styles include the name and birthstone of each child and are available in hundreds of styles. Choose a beautiful timeless or modern design created in metals including sterling silver and white, rose and yellow gold. Mother and family jewelry keeps Mom's treasures close to her heart and are certain to be among her most loved pieces of jewelry.
​
---
#4 - Just Say Mom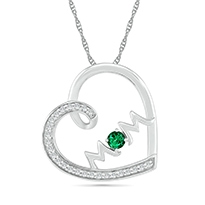 Once she's delivered, her title has changed. It's now MOM, with all the rights and responsibilities that entails. She can proudly announce her new status with a push gift of Mom jewelry! From simple necklaces that spell out MOM to MOM bolo bracelets outlined with sparkling diamond accents to darling MOM lockets she can store baby's photo in. Choose from hearts, infinity, mother and child and connection styles to name just a few.
Mom jewelry isn't just a meaningful push present, it's also a thoughtful Mother's Day gift anytime.
​
---
#5 - Diamonds: The Ultimate Push Gift Choice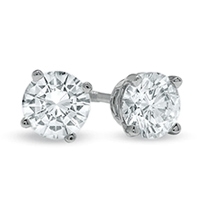 Diamonds are lovely push gift for many reasons. They are stunning, brilliant and shine in any setting – just like the new mom!
For many years, diamonds- and in particular diamond stud earrings - were the traditional choice for a push present, and a new Mom could count on her partner to gift her with a pair upon delivering her first child. Additionally, diamond studs are easy to wear, yet hard for a little one to grab on to. Later children meant more diamonds, like a diamond bolo or diamond tennis bracelet or a diamond necklace.
​
---
We'll Help You Find the Perfect Push Gift!
Whether you call them push presents, push gifts or new mom gifts - they are here to stay. And as you can see there are plenty of affordable gift ideas that any Mom will love.
Just remember that when it comes to push gifts, do what you feel is right for your growing family. And remember - if you need more push gift advice, you can always contact a trusted Zales Jewelry Consultant by visiting in store or connecting virtually online. They will help you find the perfect push present for your new Mom!
​
---