What is Aquamarine: Birthstone Guide
---
What Does the Aquamarine Birthstone Mean?
March is a bridge from the cold of winter to the first signs of spring. The March birthstone, aquamarine, is known as the calming stone, perfect for when there is change ahead. Aquamarine comes from the Latin phrase "aqua marinus," meaning "water of the sea," and is a popular choice for engagement rings.
The birthstone aquamarine symbolizes:
Peacefulness
Truth and trust
Beauty and happiness
---
Aquamarine Shades and Varieties
Aquamarines are a species of beryl and are closely related to May's birthstone, emerald. The March birthstone comes in a shifting seafoam greens, and pale blues, and can even appear totally transparent. Aquamarines turn blue when exposed to high temperatures, so most aquamarine jewelry today is heat-treated to achieve that beautiful blue color.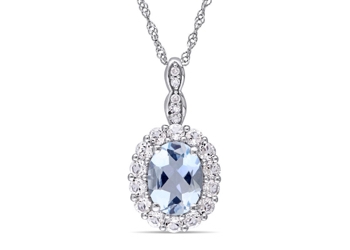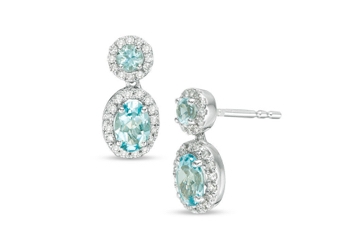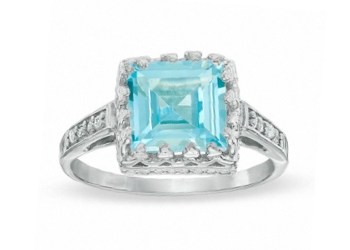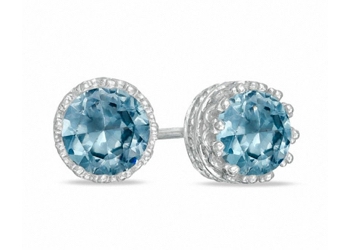 ​
---
​
Aquamarines in History
Gemstones are the subject of many legends and myths and have been prized by famous peoples and cultures throughout time. Brazil is a big exporter of aquamarines, but this gemstone is also found in Africa, Southeast Asia, and the United States. Discover the unique history of the birthstone aquamarine.

Sailors believed carrying aquamarines protected them at sea
Europeans in the Middle Ages believed aquamarines protected against poisoning

Eleanor Roosevelt was gifted the second-largest cut aquamarine in the world
Dom Pedro, the world's largest cut and polished aquamarine, is named after the first emperor of Brazil
​
---
​
Aquamarine Care
Aquamarines are durable gemstones that can handle everyday wear. Like most gemstones, aquamarines should be stored separately to avoid scratching or being scratched. Store them in a lined box or a soft pouch. Keep your aquamarine birthstone jewelry sparkling by cleaning it under warm running water with a mild soap.
How Does Your Birthstone Hold Up?
Jewelers use a tool called the Mohs Hardness Scale to rate a gemstone's general resistance to scratching. Gemstones are ranked from 1 to 10 on the scale, diamonds are the hardest at 10 — just remember higher gemstones are more durable while lower gemstones need a little more protection and care.
---
Shop Aquamarine Jewelry
Explore jewelry for the March birthstone aquamarine. The icy blue aquamarine sparkles with white gold, and its blue-green hue also pairs well with warm gold for vintage-inspired styles. Shop our incredible collection of aquamarine rings, earrings, necklaces, and bracelets to find the look that's just your style.
March's birthstone is like a treasure from the sea set in gorgeous white gold or sterling silver. Explore aquamarine birthstone rings that shimmer with style.
​
---
Make a splash with March's sparkling seafoam birthstone. Discover aquamarine earrings that sparkle in hoops, studs, and drop earring styles.
​
---
The calming, blue aquamarine gemstone channels the majesty of the sea. Find the perfect aquamarine birthstone necklace to keep close to your heart.
​
---
Refresh your style with March's beautiful blue birthstone. Luminous aquamarine bracelets shine in delicate chain styles and intricate gemstone creations.
​
---
Incorporate the March birthstone of happiness and beauty into your jewelry collection. Enjoy the oceanic gemstone in aquamarine sets featuring your favorite jewelry.
​