---
6 Ways To Create Personalized Jewelry Inspired By You
There are so many ways to create personalized and customized jewelry! It's a great way to incorporate your own personality, words, colors and more into the finished piece. Take your personalized jewelry look one step further by thinking outside the box. Here are our six top ideas for creating unique personalized jewelry inspired by you and the ones you love.
---
More Than Just A Name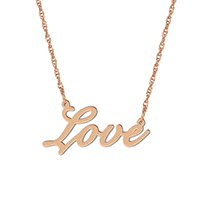 Name necklaces have been a trending style for a while and they aren't going anywhere. However, you can create more than just a name with our name styles! Create a necklace with your favorite inspirational word, like Laugh, Breathe or Namaste. Some of our custom have longer character limits and you can create simple phrases, like YouAndMe or ILoveYou. You can often watch your design come to life before your eyes. So step up your name game with a completely custom look!
---
Just Us... PLUS!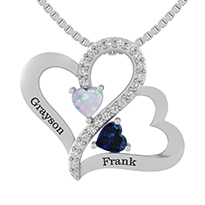 Couple's jewelry was designed to reflect - and show off - your love for each other. But did you know you can take your couple's look a step further? Depending on the style you select, you can customize your piece with genuine or simulated birthstones. Even select your favorite metal - like silver or 10K or 14K white, rose or yellow gold! But the meaning you put into your piece is the best part. Choose your kids names, or consider creating a personal message with your design - like 'With all my love...' or 'Forever yours.' Let your ideas flow!
​
---
On The Street Where We...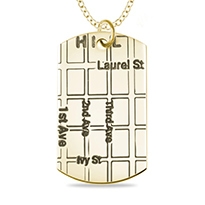 Maps take us to places we've been and places we want to go with simple coordinates. Make those memories and those places real and tangible with some of our map designs. These styles capture an address or street in linear detail. That little restaurant where you met? We can map it! The spot where you got engaged? We can map it! Your first home? We can map it! Take yourself back to those places you loved with personalized map jewelry.
​
---
Capture The Moment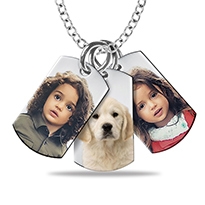 Create a look that no one else has with our photo jewelry designs. These charming styles feature your own photos, engraved in brilliant color - or classic black and white - on the design of your choice. Simply select your favorite photo, your favorite style, upload and go! The possibilities are endless with these designs! If it's a photo you love - kids, pets, people, places and even things - we'll create it and you can wear it with pride!
​
---
All In The Family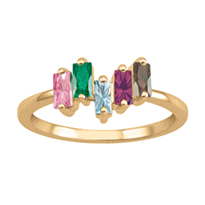 Mother's and family jewelry, like a family ring, necklace or bracelet, has been a great gift idea for Mom for a long time. It's a classic gift that's always welcome. Today's Mother and Family jewelry includes timeless and traditional designs as well as unique contemporary options like this baguette stone ring. So while the thought may be traditional, the look can be as modern as Mom is!
---
The Writing's On the Style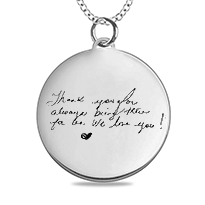 Jewelry has never been more inspirational! Personally engraved jewelry is the perfect way to create a keepsake that will be treasured forever. These unique designs may feature words from an old love letter, the signature of a parent, grandparent or spouse or even a child's artwork laser engraved in fine detail. The possibilities are endless!
​