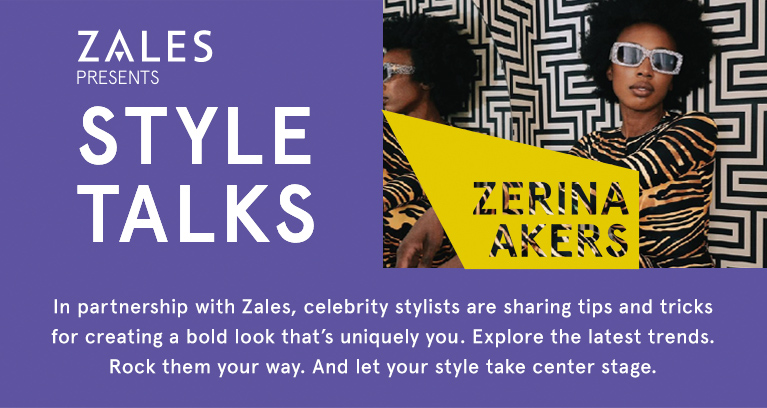 Zales Presents | Style Talks
"Spotlight On Zerina Akers"
In partnership with Zales, celebrity stylists are sharing tips and tricks for creating a bold look that's uniquely you. Explore the latest trends. Rock them your way. And let your style take center stage.
More Diamonds, Please!
Sometimes, more really is more. Bring on the bling with a bracelet stack and fancy diamond shapes like heart, emerald, oval and pear. For maximum sparkle, add a bold composite diamond ring or pendant.
Hello, Hoops!
Wear your confidence loudly and proudly with look-at-me hoops. Symbolizing unity and infinity, hoops make a statement all on their own. But when you really have something to say, stack them up for maximum impact.
Mix it Up
PSA: It's OK to mix metals! In fact, it's highly recommended. Don't be afraid to mix silver and shades of gold for a bold look. Stack on geometric rings in silver, yellow and rose tones for a real style game changer.
Next-Level Layers
Gold chains are always a good idea. When you really want to amp up your look, layer up with chains in a variety of lengths and styles.
Elevate Your Chain Game
From classic cable chain to curb and wheat, mix and match different types of chain necklaces for a dimensional, layered look. Dress up your chains with charms that say something about you and step out in style.
Yours & Mine
Think beyond "his and hers" with styles that suit everyone. Chains are a must-have trend that can be mixed, matched, shared and paired. Experiment with different lengths and links. Cuban chains — our most popular — are a great place to start.
Throw an Ear Party
There are no rules for throwing an ear party. Mix hoops, crawlers and studs. Rock dramatic drop earrings on one side and diamond solitaires on the other. Play with mismatched shapes, like lips and hearts. Just have fun!
A Modern Classic
It's time to take pearls to the next level. While pearl earrings will always be a must have, we love the more-is-more look that's now trending. Pile on pearl necklaces and mix in different metals for a fresh take on the classic style.
Now Trending: Men's Earrings
Whether your style leans subdued or statement making, there's an earring for you. Keep it simple with classic studs or play it cool with a dangly earring, the men's trend of the moment.
His Signature Style
Ready to update your everyday look? From layered necklaces to ring stacks and mixed metals, there are endless ways to express yourself in your own unique way. Get inspired and get ready for the spotlight.